Super-resolution wavefront reconstruction
Super-Resolution (SR) is a technique that seeks to upscale the resolution of a set of measured signals. SR retrieves higher-frequency signal content by combining multiple lower resolution sampled data sets. SR is well known both in the temporal and spatial domains. It is widely used in imaging to reduce aliasing and enhance the resolution of coarsely sampled images.This paper applies the SR technique to the bi-dimensional wavefront reconstruction. In particular, we show how SR is intrinsically suited for tomographic multi WaveFront Sensor (WFS) AO systems revealing many of its advantages with minimal design effort. This paper provides a direct space and Fourier-optics description of the wavefront sensing operation and demonstrate how SR can be exploited through signal reconstruction, especially in the framework of Periodic Nonuniform Sampling. Both meta uniform and nonuniform sampling schemes are investigated. Then, the SR bi-dimensional model for a Shack Hartmann (SH) WFS is provided and the characteristics of the sensitivity function are analyzed. The SR concept is finally validated with numerical simulations of representative multi WFS SH AO systems. Our results show that combining several WFS samples in a SR framework grants access to a larger number of modes than the native one offered by a single WFS and that despite the fixed sub-aperture size across samples. Furthermore, we show that the associated noise propagation is not degraded under SR. Finally, the concept is extended to the signal produced by single Pyramid WFS. In conclusion, SR applied to wavefront reconstruction offers a new parameter space to explore as it decouples the size of the subaperture from the desired wavefront sampling resolution. By cutting short with old assumptions, new, more flexible and better performing AO designs become now possible.
La RS est une technique qui vise à augmenter la résolution d'un ensemble de signaux mesurés. La SR récupère le contenu du signal à haute fréquence en combinant plusieurs ensembles de données échantillonnées à plus basse résolution. La RS est bien connue dans les domaines temporel et spatial. Elle est largement utilisée en imagerie pour réduire le crénelage et améliorer la résolution des images grossièrement échantillonnées. Cet article applique la technique SR à la reconstruction bidimensionnelle du front d'onde. Cet article applique la technique SR à la reconstruction bidimensionnelle du front d'onde. En particulier, nous montrons comment la SR est intrinsèquement adaptée aux systèmes d'OA tomographiques multicapteurs à front d'onde (WFS), révélant nombre de ses avantages avec un effort de conception minimal.
Fichier principal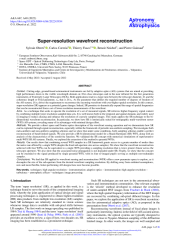 aa43954-22.pdf (1.27 Mo)
Télécharger le fichier
Origin : Publisher files allowed on an open archive